The 2019 Mercedes-Benz A-Class: the affordable luxury.
March 27 2018, Mercedes-Benz Rive-Sud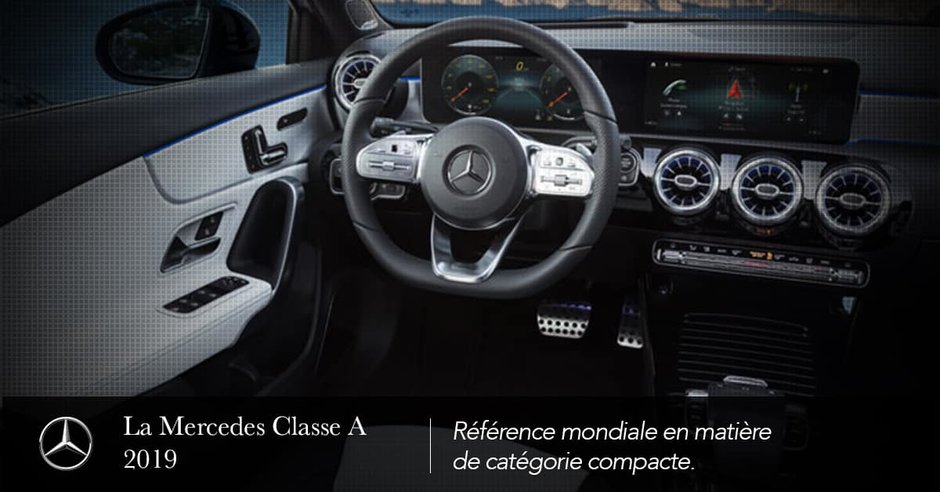 If there is one thing that customers may complain about Mercedes-Benz cars, it's their price. At the same time, when it comes to luxurious cars, you should expect performance, aesthetic and a big price tag… but is it really an absolute rule? Mercedes-Benz seems to have decided otherwise. The 2019 A-Class is coming to Canada with a combination of design, price and features that is simply unbeatable! Contact Mercedes-Benz Rive-Sud, your Mercedes-Benz car dealer located on Taschereau Boulevard, to know when you'll be able to come admire and try this promising vehicle!
Breathtaking price and design.
Even if we don't know for sure the price of the A-Class for the Canadian market, it's a well-known fact that it will be the most affordable model ever sold by Mercedes-Benz, which is a good news for consumers that want to enjoy the driving experience and the prestige delivered by the brand without ruining themselves! If the price is interesting, the 2019 Mercedes-Benz A-Class is not a "discount" Mercedes, though. It has common features and elements with superior models (such as the S-Class) and a couple of new things like a tactile dashboard that reminds of cockpits, two 7-inch infotainment touchscreens (with the option to go for 10.25-inch displays) and a minimalist interior design made possible by the growing number of voice-commanded functions as is increasingly common on luxury cars' prototypes and concepts. On the outside, no matter if you choose the sedan or the hatchback version, you can expect a refined aesthetic that strikes by its simplicity. The 2019 Mercedes-Benz A-Class is a luxurious compact car made with German engineering and sold at a highly competitive price. It answers a lot of prayers!
Initial performance.
As of now, the only certainty we have is that the first model to reach Canada (the Mercedes-Benz A250) will feature a 4-cylinder, 2-liter engine capable of producing 221 horsepower. The only transmission available at launch will be a dual clutch 7-speed automatic box, and in terms of wheelwork, you can expect an all-wheel drive system.
The 2019 Mercedes-Benz A-Class is consistent with the German manufacturer's efforts to offer luxurious and performant vehicles, and add a cost-effective dimension that will certainly appeal to many customers across the province. If you're part of those that thought they could never afford a Mercedes-Benz or if you simply like everything that this brand does, go to Mercedes-Benz Rive-Sud, your Mercedes-Benz car dealer located on Taschereau Boulevard.