The Vision Van delivers your parcels with drones, wherever and whenever you want!
September 07 2016, Mercedes-Benz Rive-Sud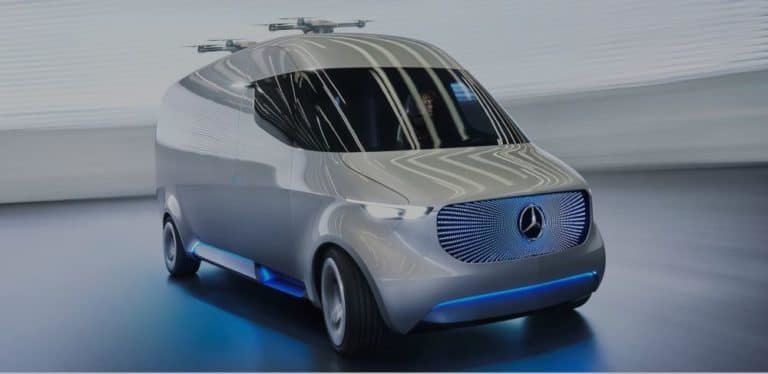 As part of the adVANce project, Mercedes-Benz introduced its concept vehicle Vision Van, a state-of-the-art vehicle based on the Sprinter van platform. Aside from its futuristic style, the vehicle is based on a fully electric motorization of 102 horses, which would have a range of about 270 kilometers. The absence of a conventional motorization makes it possible to advance the driving position and thus, to offer more loading space at the rear.
The concept, which is intended for parcel delivery, is fully connected while algorithms manage the preparation of deliveries and handling packages, while the loading space is managed automatically, as well as routes.
The concept vehicle benefits from a myriad of innovations, including floor LED displays that warn the driver when pedestrians or cyclists are approaching the vehicle. This one drives with the help of a "joystick", done with the steering wheel!
According to Stefan Maurer, Head of Future Transportation Systems at the Mercedes-Benz Vans Division, "Online commerce has been growing steadily for years, and with it the express courier industry. This development poses a number of major challenges to the industry. With the Vision Van, a fully connected light utility with a very advanced degree of automation and integrated delivery drones, Mercedes-Benz Vans presents revolutionary solutions for urban deliveries over the last few kilometres.
" How it works? The Vision Van goes to a central point of delivery, the day of your order, then 2 drones perform the final stage of delivery, by delivering directly to your home or office, your package and at the time that you find appropriate. Great is not it?
Mercedes-Benz plans to invest more than 500 million euros in its Vans program over the next 5 years. Long live the future!
Your Mercedes-Benz South Shore dealer can help you learn about all the characteristics of this futuristic van. At the same time, ask them about their large inventory and the financing options. Our experts are there to help you find your dream car!