The Mercedes-Benz CLA 2018.
July 19 2017, Mercedes-Benz Rive-Sud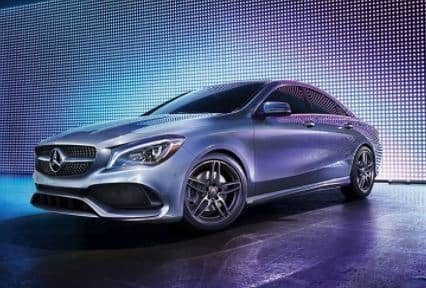 The Mercedes-Benz CLA 2018: a breathtaking car.
In the middle of the plethora of cars constantly improving on their performance and their design, those built by Mercedes-Benz still keep their distinctive nature, the one that makes consumers dream of driving a Mercedes. The Mercedes-Benz CLA 2018 is no exception. Mercedes-Benz Rive-Sud, your Mercedes-Benz car dealer located on the boulevard Taschereau, is proud to introduce it to you and to offer you a road test. The quality of the financing offered as well as the numerous special offers will also charm you. Keep reading to understand why you should definitely accept this invitation.
Love at first sight.
When it comes to cars (or love), the appearance is not the only criteria even if it's the first thing you'll notice. The Mercedes-Benz CLA 2018's manufacturers did everything they could to make sure that you'd fall in love at first sight. Shaped like an exposition car (it's a coupe after all), the CLA 2018 has going for itself an appealing, slender profile and eye-catching lines that also help with the aero dynamics of the vehicle. It presents a face that looks made out of diamonds and the optional packages "Sport" and "Night" add to the whole thing improved rims and a gorgeous body kit. In the back, you'll be presented with LED lights, obviously. It's not an overstatement to say that the Mercedes-Benz CLA 2018 will make your heart race (if you have one).
Not just a beautiful thing to look at.
The CLA 2018 is not just a pretty thing to look at. You'll find under its hood a 4-cylinder, 2-liter inline turbo engine capable of producing 208 HP. It comes with a 7-speed automatic dual-clutch transmission. The good news is power doesn't mean you have to forgo fuel efficiency: the CLA 2018 uses a state-of-the-art direct injection system that will greatly help with your fuel consumption. Plus, it comes equipped with an ECO start/shut down functionality that stops the engine when you're not moving (i.e., at a red light) and restarts it as soon as you release the brake pedal! The technology hasn't been pushed aside either. The CLA 2018 is delivered with a 7 inches multimedia display, an intuitive central music selector and appealing options of the likes of the radio SiriusXM, Apple CarPlay and Android Auto. You will never be bored on the road ever again, whether you're alone or with some friends.
The CLA 2018 is one of the most elegant (and surprisingly affordable) Mercedes-Benz out there. A road test cost nothing even though some would pay to get a chance to sit behind the wheel of this vehicle. Make an appointment at Mercedes-Benz Rive-Sud, your Mercedes-Benz car dealer located on the boulevard Taschereau, to get the privilege of spending a few minutes in the CLA 2018. If a few minutes are not enough, become an owner at more than favorable financing rates!