The Mercedes-AMG GLA 45: A New Performance Benchmark.
June 06 2018, Mercedes-Benz Rive-Sud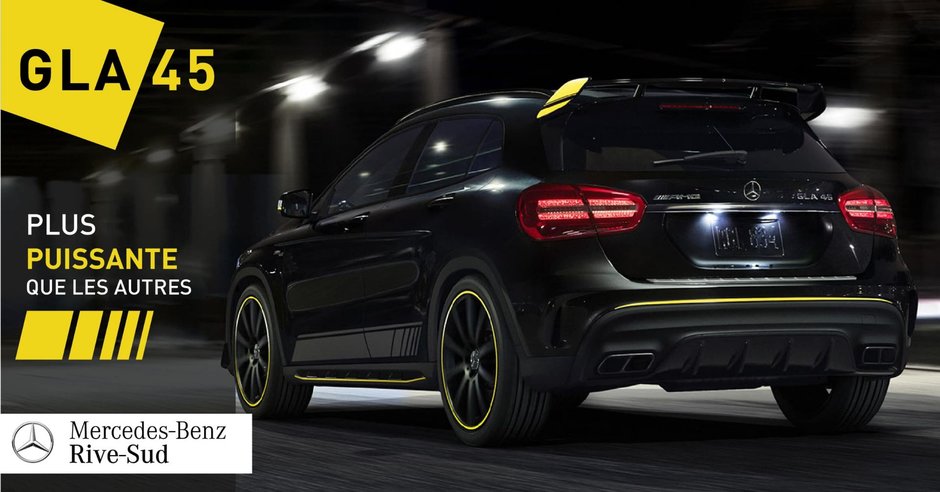 Everybody knows the Mercedes brand and some of you are also aware of the added value that the three letters AMG brought to it. However, neither of these two elements will prepare you for the experience the all-new Mercedes-AMG GLA 45 will give you. Even for another vehicle of the same category, the bar has been set high, very high. Come see us now at Mercedes-Benz Rive-Sud, your Mercedes dealership located on Taschereau Boulevard, where high thrills are awaiting.
The Shape of a Champion
Despite the aerodynamic considerations that have guided its conception, the GLA 45 is a superb machine, with nicely sculpted lines and an almost intimidating presence considering the compact character of this SUV. From its hand-sewn seats (with optional racing seats) to its flat-bottomed steering wheel (that you can have covered with microsuede DINAMICA) to its E-SELECT console made of aluminum and leather, everything has been created so the interior of this SUV inspires refinement and performance. This vehicle comes with 19-inch rims that can be replaced by 20-inch rims if such is your desire, whether it be to embellish your AMG Driver or AMG Ride Control packages, or simply because you believe (rightly so) that the "basic" model is worth coming with them.
A Performance That Will Leave You Speechless
All real sports car fanatics know that when driving the Mercedes-AMG, one shall be emotionally fulfilled. The engineers from the high-performance division of this car maker have surpassed themselves to reach the development of the most powerful 4-cylinder engine ever built, to honor the Mercedes-AMG GLA 45. We are talking about a 2-liter turbo engine capable of producing about 375 horsepower and of reaching 100km/h in as fast as 4.4 seconds! Couple this truly revolutionary powertrain to the 7-gear and dual-clutch automatic transmission offered on this model, and absolutely nothing will stop you!
The Mercedes-AMG are so far ahead of their competitors that if you are looking for a luxurious and high-performance SUV, you do not have a lot of serious options: choose the Mercedes-AMG GLA 45 or simply pick an inferior product, period. The one and only address to stop by to look at and try this compact SUV which will make all heads turn: Mercedes-Benz Rive-Sud, your Mercedes dealership located on Taschereau Boulevard that also offers you personalized financing options.