The Mercedes 2018 GLA 250.
July 18 2017, Mercedes-Benz Rive-Sud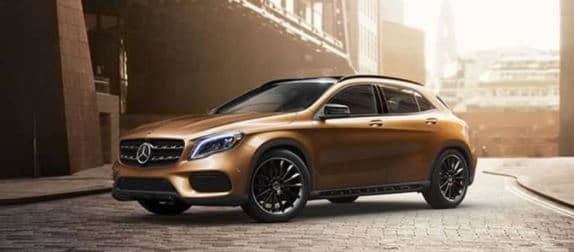 The 2018 GLA 250: what a Mercedes should be.
If you had to describe a Mercedes, what terms would you use? Probably something close to "elegant", "refined" and "performant". Then it's no surprise to discover that the 2018 GLA 250, the Mercedes-Benz compact SUV, possesses these 3 attributes. You can go gaze upon this jewel of automotive engineering at Mercedes-Benz Rive-Sud, your Mercedes-Benz car dealer on the Boulevard Taschereau which offers a large range of fiancial options to help you buy your dream car, the GLA 2018.
A jaw-dropping design.
The 2018 GLA 250 has been entirely redesigned to further increase its agility, which is illustrated by its thin, distinctive lines. Both the front and the back of the car have been modernized to improve its aero dynamics but not so much that it changes the "Mercedes" aura that it projects. The GLA 250 is elegant and surprisingly roomy considering its profile. The options that improve on its functionality are many. You can choose to equip your urban SUV with the new electrical back door that works with a simple gesture of your foot. The "Sport" package will give you multi-arms 19-inch wheels, an improved braking system and a body kit designed by AMG. You can expect a highly technological environment. The 8-inch touchscreen will keep you connected and entertained with Apple CarPlay, Android Auto and an audio Bluetooth connectivity. The Dynamic Select mode allows you to modify the driving style of your GLA 250 by changing the gas pedal and the gear shifting's responses and sensitivity. The Sport mode (not to confuse with the package of the same name) completely unleashes the power of the car while Eco and Comfort, on the opposite, bring it back to a more urban pace.
Efficient engine and transmission.
The 2018 GLA 250 is equipped with a 2-liter, turbo compressed engine that delivers 208 HP without compromising the fuel efficiency of the vehicle. This engine uses direct injection and a starting system that work together to provide you with a first-class driving experience. The GLA 250 is paired with a 7-speed, 7G-DCT automatic transmission that combines the peace of mind brought by an automatic box and the fury (of the car, not yours) of a manual one. Finally, the 2018 GLA 250 comes with a 4MATIC all-wheel drive that will give you an unparalleled stability on the road.
If you're looking for a compact (but roomy) and luxurious, powerful and fuel efficient SUV, don't look any further. Go to Mercedes-Benz Rive-Sud, your Mercedes-Benz car dealer on the Boulevard Taschereau, for a road test and financial advices.