The Concept Mercedes-Maybach 6 convertible.
February 16 2018, Mercedes-Benz Rive-Sud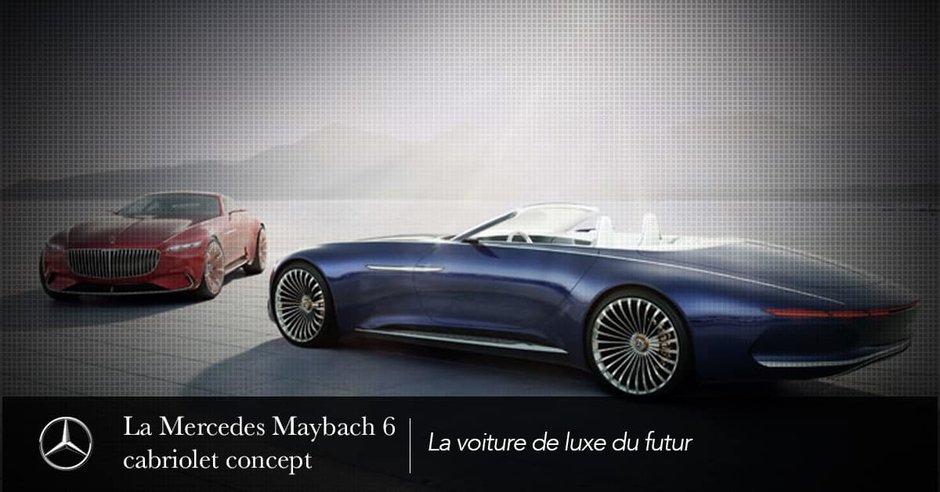 What would you say about jumping into the future? At a time where we're already building driverless cars, it's easy to dream about cars of the future. That's what Mercedes made while unveiling the Maybach 6 convertible, an eye-pleasing car from the future, during the automotive meeting of Pebble Beach last summer. Mercedes-Benz Rive-Sud, your Mercedes-Benz car dealer on the South Shore, wants to let you know more about this exceptional model that unfortunately is not available yet.
A futuristic design.
No car looks like the Mercedes-Maybach 6 convertible. Everything about this model is high-end, starting with its 6-foot long, unparalleled body, completed by a hood that resembles the tail of a luxury yacht. Its elongated figure with rich colours looks like a well-tailored suit. The inside of the cabin is not falling short of its exterior and features a striking resemblance with familiar spaceships of sci-fi movies. A quilted white leather covers the entirety of the cabin and a glass screen replaces the traditional LCD touch display we're so used to. There are also biometric sensors and the driving is, of course, completely automatic.
The speed you dreamed about.
What about the performance, now? The Mercedes-Maybach 6 convertible will make you feel as if everything was possible with its jaw-dropping 738 horsepower. It can reach 100 km/h in only 4 seconds and peaks at approximately 250 km/h. You can also count on an autonomy well beyond 300 km. That's all we can say at this point. After all these specs, Mercedes leaves us hanging. Cars of the future will transport us in all safety and comfort. Relax and trust the wheel to the machine. The future will be controlled by robots for the greater good of humankind.
Have you dreamed enough, yet? Just so you know, Mercedes-Benz currently sells luxurious models that actually exist. Go to Mercedes-Benz Rive-Sud, your Mercedes-Benz car dealer at 4844 Boulevard Taschereau, Greenfield Park on the South Shore to enquire about these models.