The 2018 Mercedes-AMG G-Class: the class with a big G.
March 27 2018, Mercedes-Benz Rive-Sud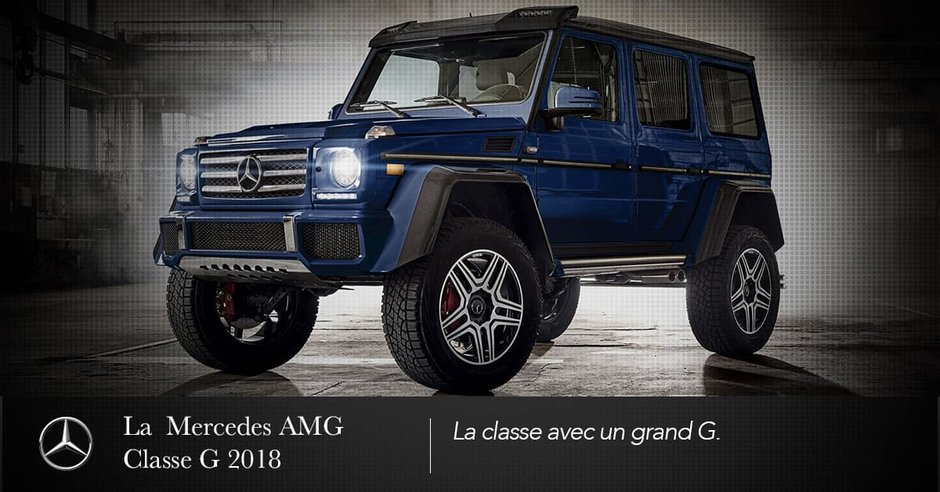 Even if Mercedes-Benz offers vehicles that fit in most traditional car segments, in Quebec, the brand is better known for its sedans that we can see on all the roads of the province. However, those of you that think big and need a car that projects this mindset should look no further than the 2018 Mercedes-AMG G-Class. Mercedes-Benz Rive-Sud, your Mercedes-Benz car dealer located on Taschereau Boulevard, is proud to present to you the biggest and most distinguished vehicle of its inventory.
A heavy-duty SUV.
Appearance is not everything, but some exterior elements speak volumes. The G-Class has been distinguishing itself for almost 40 years by the rectangular shape of its cabin which rests on 22-inch wheels. The frame doesn't just look solid, it is. Each 2018 Mercedes-AMG G-Class is made of galvanized steel welded by hand during a process that takes dozen of hours. From the 3-line grille in the middle of which stands the company logo to the rear door that doubles as a support for the spare wheel, everything in this SUV inspires confidence and toughness. The interior design is as refined and detailed as the exterior is imposing. Also finished by hand, the inside is made of leather, rich wood and carbon fibre with a selection of contrasting tones that produce a gorgeous effect. Do you refuse to drive a G-Class not made entirely to your image? Good, because the many layout and colour options are there to make sure that the only common point between your G Class and another one is the unbeatable exterior look.
Even more powerful than it looks.
No one ever looked at a Mercedes-AMG G-Class and thought it was underpowered, but its technical sheet is even more impressive than it appears to be: this outstanding SUV comes with an 8-cylinder, 4-liter twin turbo engine that can produce up to 416 horsepower and make the G-Class go from 0 to 100 km/h in 5.9 seconds. It obviously comes with a top-notch all-wheel drive system that will provide you with an optimal road handling in all circumstances.
The 2018 Mercedes-AMG G-Class is an imposing and refined SUV made to face all the obstacles you may encounter on the road. If you're on the market for a vehicle that matches this description, go at once to Mercedes-Benz Rive-Sud, your Mercedes-Benz car dealer located on Taschereau Boulevard.