2018 Mercedes B Class.
August 09 2017, Mercedes-Benz Rive-Sud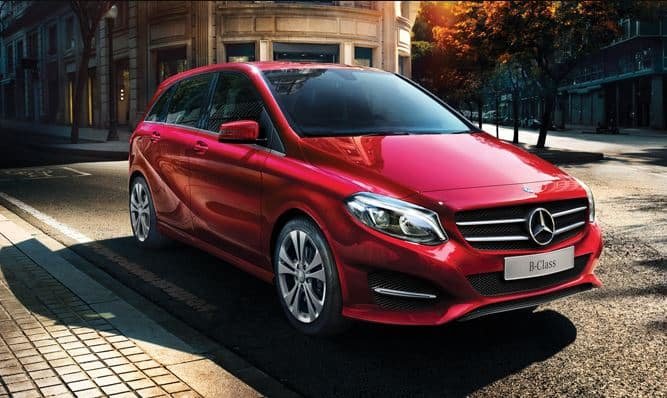 The 2018 Mercedes B Class : a car that deserves an "A".
Some car lovers seem to snub compact or hatchback models, treating them as if they were "sub-sedans". These self-proclaimed experts are blind or never got the chance to take a good look at the 2018 Mercedes B-Class, which undoubtedly deserves a solid "A". Go at once at Mercedes-Benz Rive-Sud, your Mercedes-Benz car dealer on the boulevard Taschereau, to confirm the fairness of this grade (or to add a "+" to it) on the B-Class . Take advantage of this opportunity to learn more about their advantageous financing options, as this B-Class 2018 may be yours!
Beautiful from the front to the fifth door.
Fine, let's say that hatchback cars are not always the best-designed vehicles out there, but the B Class manufacturers succeeded in the challenge of giving clean, sophisticated lines, a dynamic and aerodynamics shape to a compact model. Well-thought and designed, the B Class can fit comfortably 5 passengers without compromising on storage space thanks to the height of its construction. Since it's a Mercedes we're talking about, it goes without saying that the inside is as refined as the exterior suggests, and you can personalize it by choosing the combination of colors, backrest cover and filling that appeals to you the most. The leather-like seats that comes by default will provide you with durable comfort and the addition of wooded elements is a nice touch that will improve the appearance of your dashboard. And of course, you'll find in the 2018 Mercedes B Class all the connectivity, entertainment and safety features you might desire, by default or optional.
Under the hood.
No bad surprises under the hood either: Mercedes equipped the B Class with a 2-liter turbo compressed engine capable of producing more than 200 horsepower. Performance and innovation going hand in hand, the B Class engine uses a smart technology that improves the response time of the gas pedal (that propels a 7-speed, dual clutch automatic transmission) without compromising the cleanliness of its emissions. Choose the driving style that suits your daily mood between 4 modes ranging from ECO to Sport. The 4MATIC all-wheel drive system will be your best friend during wintertime or on terrains. Its continuous wheel tracking system will give you the assurance that the car won't escape your control, no matter the obstacles, the nature or the condition of the road you're driving on.
The 2018 B Class clearly deserves an A. Make a test drive as soon as possible by going to Mercedes-Benz Rive-Sud, your Mercedes-Benz car dealer on the boulevard Taschereau. Once convinced after your test drive, you will get the lowest financing rates on the market!